17 Mar

Steady And Consistent Growth of Streaming Audio And Podcast
17 Mar

Steady And Consistent Growth of Streaming Audio And Podcast

Streaming digital audio and podcast advertising has continued to rise, with 69% of media agencies now reporting streaming digital audio advertising is a significant or regular part of their activity and 36% report that podcast advertising is a significant or regular part of their activity. IAB Australia's Advertising Audio State of the Nation Report Wave 5 released at IAB's Audio Summit, also found the streaming audio sector has benefited from increasingly making its inventory available through programmatic channels, with agencies embracing programmatic during 2020 to secure greater control over their investments.

The authors of the report noted that: "campaign integration maybe be hampered by audio advertising continuing to be planned and bought in siloed teams, with only 56% of agencies planning and buying digital audio collaboratively with digital display activity; and 53% planning and buying in combination with digital video activity."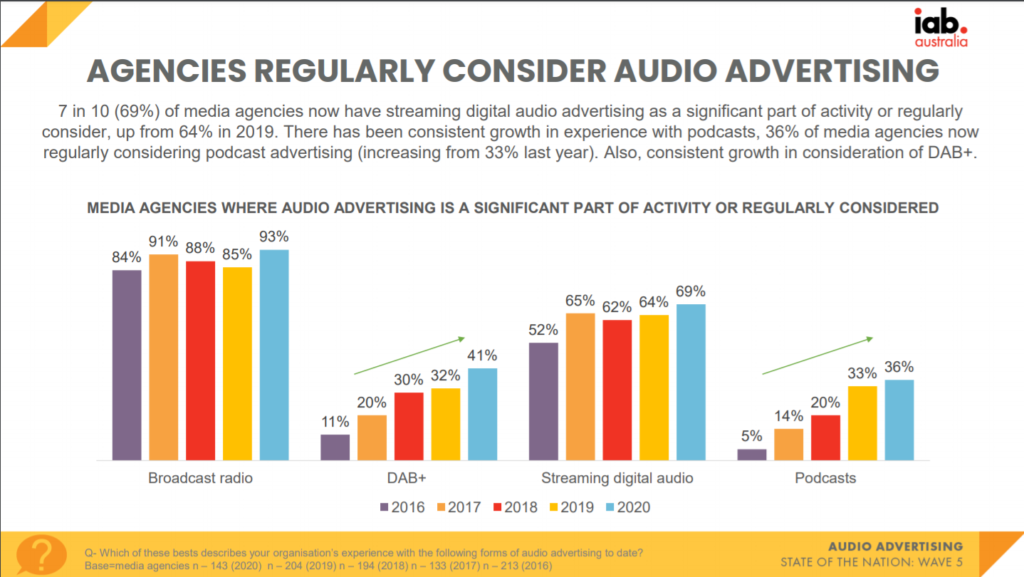 Gai Le Roy, CEO of IAB Australia commented: "When we started the Audio State of the Nation Research five years ago, digital streaming and podcasting advertising didn't sit in either traditional or digital budgets. Today, we are seeing an increase in the amount of agencies planning and/or buying their broadcast radio and streaming audio in an integrated manner, however with the increase in programmatic investment across all channels, there is still room for audio investment to be baked into cross digital programmatic campaigns."
For the first time, the Wave 5 Report also reveals the top seven genres identified by agencies for podcast investment. It's good news for local content creators with News taking the top spot, closely followed by Society & Culture and then Business.
Building brand awareness continues to be the predominant objective for media agencies using streaming digital audio and podcast advertising (82% and 73% respectively). However, the report identified a disconnect between campaign objectives and the metrics used to evaluate it, with just 34% of media agencies using brand metrics to assess the performance of brand awareness streaming digital audio and podcast advertising.
The report found: "one-third of media agencies are still not tailoring creative to suit different audio environments when running campaigns across different broadcast and digital audio advertising options. Encouragingly, agencies reported fewer barriers to creating fresh creative assets including digital voice to allow brand messages to shine through, expressing a belief that while 2020 was not a year for experimentation, there are signs of a shift in interest towards these assets for 2021. "
Data and targeting continue to be the #1 factor in using programmatic buying methods for audio, however, only 28% using client data. Despite a low growth advertising environment over the last year, the price has not increased insignificance. Reporting and attribution were added to the survey in 2020 and 60% of agencies buying programmatically consider this a major factor for buying programmatically.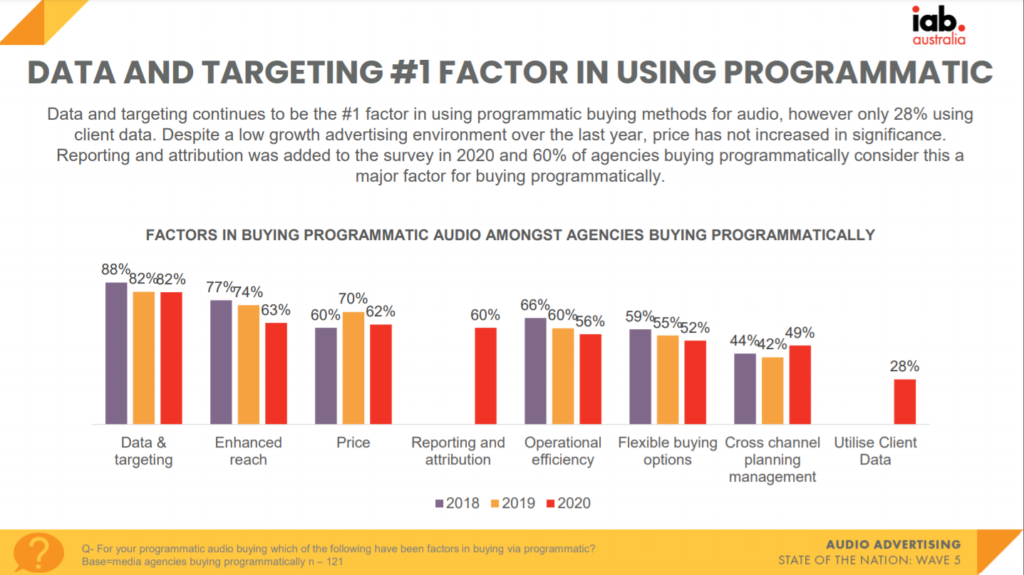 The Audio Advertising State of the Nation Report is a collaborative industry project, supported by 18 different media and tech companies, as well as industry body Commercial Radio Australia. Fieldwork was conducted by independent research company Hoop Group across December 2020 and January 2021 with 222 respondents.
Download The Audio Advertising State of the Nation Report.